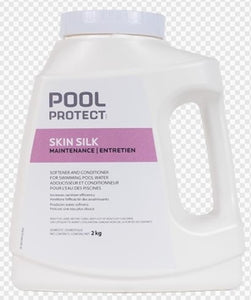 SKIN SILK softens water and improves bather comfort. 
It is a selected pool product combined with aromatherapy so as to enhance water quality.
SKIN SILK is compatible with pool sanitizing chemicals and increases their efficiency.
Balanced pH formula that won't affect pool water parameters.
Makes pool water crystal clear.
AROMATHERAPY.
Increases sanitizer efficiency.
Produces water softness.
If you have a question about this product or want to request a price, just fill out the form and we'll get you an answer in no time!