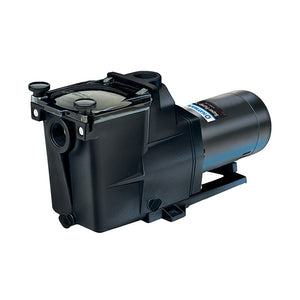 Hayward Super Pump
Super Pump is the world's best-selling medium head pool pump. Efficient, dependable and proven, it has set the standard for excellence and value.
Features:
The industry's workhouse recognized for reliability and performance. 3 year warranty.
Exclusive swing-away hand knobs makes for easier strainer cover removal: no tools required, no loose parts and no clamps.
See-through strainer cover lets you see when the basket needs cleaning.
Oversized debris basket has extra leaf holding capacity for less frequent maintenance.
Easy installation and servicing with quick 4-bolt access to internal components.
Permanent magnet, totally enclosed fan-cooled (TEFC) motor delivers maximum energy efficiency and reliability.
1-1/2"" internally threaded inlet and outlet.
If you have a question about this product or want to request a price, just fill out the form and we'll get you an answer in no time!