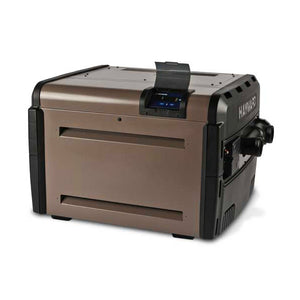 Hayward Universal H-Series features

Front-panel-only access provides easy service and maintenance, avoiding the problems and costs associated with front-and-back-panel access heaters.
Universal junction boxes on left and right sides make electrical and automation insallation simple and convenient.
Intuitive conrtol pad with protective cover is alway easy to read and operate.
Excellent salt water and chemical corrosion resistance.
Same water velocity through all tubes for faster heating.
Patented header by-pass design.
Low NOx emissions - meets clean air quality standards.

Premium quality without the premium price.
While other manufacturers make you spend hundreds of dollars to upgrade to the performance and reliability of a cupro nickel heat exchanger, Universal H-Series heaters include them at no extra charge.

Comes with 2" CPVC union plumbing connections.
If you have a question about this product or want to request a price, just fill out the form and we'll get you an answer in no time!