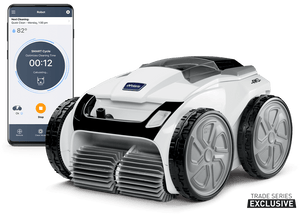 The Smarter Way To Clean
Ushering in the next evolution of intelligent robotic pool cleaners, the Polaris® VRX™ iQ+ provides strategic cleaning for a brilliantly clean pool you can clearly see. Offering the ultimate customized cleaning solution with SMART Cycle functionality that learns your pool, the VRX™ iQ+ calculates the most efficient amount of time to eliminate debris while collecting data to make automatic adjustments as it cleans. Information is then sent to your iAquaLink® app, where you have full access and greater capabilities including, monitoring cleaning status, checking the water temperature and even spot cleaning targeted areas of your pool.
Features
SMART Cycle Cleaning Mode - Calculates optimal cleaning time.
Deliberate Navigation - On-purpose patterns scan and measure pool.
Sensor Nav System™ - Adjusts and adapts cleaning to pool.
Enhanced Scheduling - Easily schedule recurring cleaning cycles with advanced options.
Remote Control with Targeted Spot Cleaning - In-app remote lets you guide the cleaner; Spot Cleaning mode provides targeted cleaning of trouble spots.
Temperature Display - Conveniently check your pool water temperature.
Evolving Intelligence - Receives automatic performance updates via your home's Wi-Fi connection.
Large Illuminated Debris Canister - Easy to access, large, lighted debris canister with transparent window.
Powerful Performance - Vortex Vacuum technology and 4WD agility and an extra-long 70' cable with tangle-reducing swivel.
Multiple Cleaning Modes - 7 different cleaning cycles, including waterline only for a customized clean.
Patented Easy Lift Removal System - Retrieve at waterline. Water evacuates for lightweight removal.
Never Touch Debris Again - Simply remove canister, shake, and spray away debris.
If you have a question about this product or want to request a price, just fill out the form and we'll get you an answer in no time!