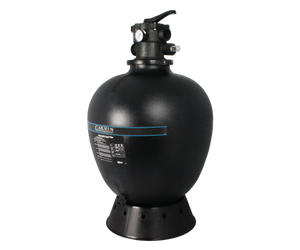 7 WAY DIAL VALVE
With inspection sight glass, automatic air relief and pressure gauge

NON-CORROSIVE RESIN CLAMP
For simple installation and service of dial valve and filter components.

UPPER DISTRTIBUTION SYSTEM INTEGRATED IN THE DIAL VALVE
Engineered to direct water evenly across the entire surface of the sand without sand migration or channeling.

BLOW MOLDED TANK WITH DEEP HIGH CAPACITY SAND BED
Carries more debris and extnds filter cycles. The tank is
corrosion-resistant and UV-resistant.

INLET/OUTLET CONNECTIONS
Standard 1 1/2″ (38 mm) FNPT + external threads for Cavin unions.
If you have a question about this product or want to request a price, just fill out the form and we'll get you an answer in no time!